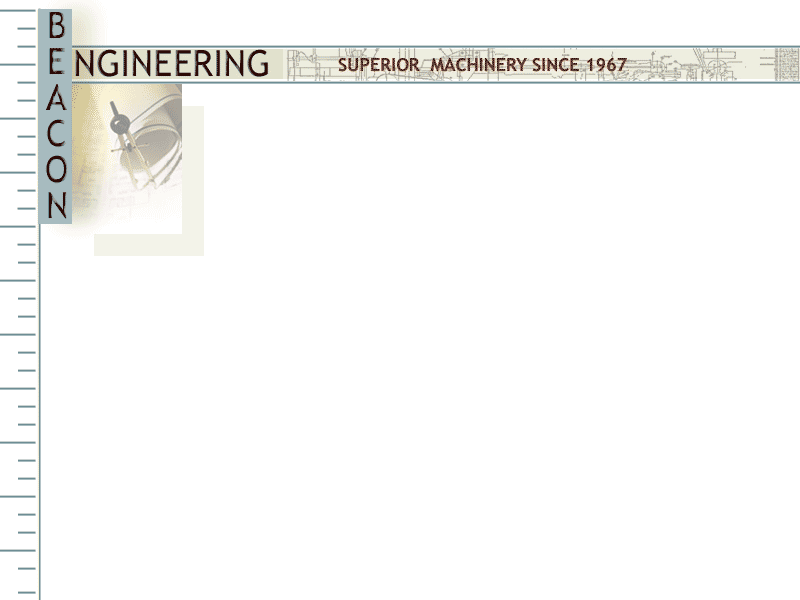 Since 1967 Beacon Engineering has built a solid reputation as an innovative designer and manufacturer of quality production machinery for the aerosol can and candy making industries.



Beacon's EVAC and EVAC JR aerosol can crusher and product recovery systems include models for the disposal of 300 to 2500 cans per hour. Cans are crushed and more than 95% of the contents captured and contained for reuse, incineration or use as an alternative fuel source making our aerosol can crushers environmentally friendly.

Beacon's commercial candy making machinery include equipment for the production of candy sticks and canes and the sizing of hard candy, taffy and caramel includes our Batch Roller, Rope Sizer, the Stickmaster, and Puff Cutter.

Beacon's aerosol can equipment includes the vertical and horizontal extension Tube Tapers, Vertical Tube Taper or non-orienting, for automatic taping of extension tubes to aerosol cans at speeds up to 250 cpm. The can orienter-labeler machines apply pressure sensitive spot labels to any location on the can body or cap. We also have a Crease or Quarter Turner for the apparel industry.

Beacon can provide on-site or factory training and start-up assistance, as well as on-going technical support. Operational videos, manuals and equipment warranties accompany every machine. Our phones are answered by real people who provide prompt shipment of replacement parts and personal attention to service questions.
Beacon's machines for the aerosol can and candy making industries are durable and reliable, and incorporate the highest quality components and workmanship. For more information or to view a short operational video, please contact us or choose from the product lines below.
Aerosol Manufacturing and Recycling Equipment
Garment Products: Quarter Turner Creaser
Beacon Engineering offers free online quotes! It's quick & easy!
---
©2014 Beacon Engineering. All Rights Reserved. 706-692-6411
Makers of durable and reliable products for the aerosol can and commercial candy making industries. Our EVAC systems include aerosol can crusher machines and aerosol can disposal systems for recycling. Our innovative candy making equipment for production of candy sticks and canes and the sizing and cane forming of hard candy, taffy and caramel.